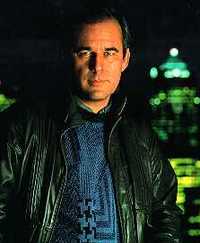 جان سول
John Saul
John Saul was born in Pasadena, California on February 25, 1942, and grew up in Whittier where he graduated from Whittier High School in 1959. He attended several colleges—Antioch, in Ohio, Cerritos, in Norwalk, California, Montana State University and San Francisco State College, variously majoring in anthropology, liberal arts, and theater, but never obtaining a degree.
After leaving college, he decided the best thing for a college dropout to do was become a writer, and spent the next fifteen years working in various jobs while attempting to write a book someone would want to publish. Should anyone ever want to write a novel concerning the car-rental industry or the travails of temporary typists, John can provide excellent background material.

Those years garnered him a nice collection of unpublished manuscripts, but not a lot of money. Eventually he found an agent in New York, who spent several years sending his manuscripts around, and trying to make the rejection slips sound hopeful. Then, in 1976, one of his manuscripts reached Dell, who didn't want to buy it, but asked if he'd be interested in writing a psychological thriller. He put together an outline, and crossed his fingers.

At that point, things started getting bizarre. His agent decided the outline had all the makings of a best-seller, and so did Dell. Gambling on a first novel by an unknown author, they backed the book with television advertising (one of the first times a paperback original was promoted on television) and the gamble paid off. Within a month Suffer the Children appeared on all the best-seller lists in the country and made the #1 spot in Canada. Subsequently all 32 of his books, have made all the best-seller lists and have been published world wide. Though many of his books were published by Bantam/Doubleday/Dell his last fourteen books have been published by Ballantine/Fawcett/Columbine.

In addition to his work as novelist, John is also interested in the theater. He has acted, and as a playwright has had several one-act plays produced in Los Angeles and Seattle, and two optioned in New York. One of his novels was produced by Gerber Productions Company and M.G.M. as a C.B.S. movie and currently one of his novels is in development.

John served on the Expansion Arts Panel of the National Endowment for the Arts. He is actively involved with the development of other writers, and is a lecturer at the Pacific Northwest Writers Conference and the Maui Writers Conference and received the Life Time Achievement Award from the Northwest Writers Conference. John is also a trustee and Vice President of The Chester Woodruff Foundation (New York), a philanthropic organization.

John lives part-time in the Pacific Northwest, both in Seattle and in the San Juan Islands. He also maintains a residence on the Big Island of Hawaii. He currently enjoys motor homing, travel and golf. He is an avid reader, bridge player, golfer and loves to cook.
---