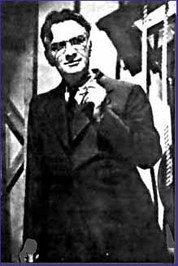 جیمز کین
James M. Cain
James Mallahan Cain was an American journalist and novelist. Although Cain himself vehemently opposed labelling, he is usually associated with the hardboiled school of American crime fiction and seen as one of the creators of the 'roman noir'.
He was born into an Irish Catholic family in Annapolis, Maryland, the son of a prominent educator and an opera singer. He inherited his love for music from his mother, but his high hopes of starting a career as a singer himself were thwarted when she told him that his voice was not good enough.

After graduating from Washington College where his father, James W. Cain served as president, in 1910, hebegan working as a journalist for the Baltimore Sun.

He was drafted into the United States Army and spent the final year of World War I in France writing for an Army magazine.
On his return to the United States he continued working as a journalist, writing editorials for the 'New York World' and articles for 'American Mercury'. He also served briefly as the managing editor of 'The New Yorker', but later turned to screenplays and finally to fiction.

Although Cain spent many years in Hollywood working on screenplays, his name only appears on the credits of three films, 'Algiers', 'Stand Up and Fight', and 'Gypsy Wildcat'.

His first novel (he had already published 'Our Government' in 1930), 'The Postman Always Rings Twice' was published in 1934. Two years later the serialized, in 'Liberty Magazine', 'Double Indemnity was published.

He made use of his love of music and of the opera in particular in at least three of his novels: 'Serenade' (about an American opera singer who loses his voice and who, after spending part of his life south of the border, re-enters the States illegally with a Mexican prostitute in tow), 'Mildred Pierce' (in which, as part of the subplot, the only daughter of a successful businesswoman trains as an opera singer) and 'Career in C Major', a short semi-comic novel about the unhappy husband of an aspiring opera singer who unexpectedly discovers that he has a better voice than she does.

He married his first wife Mary Clough in 1919 but the marriage ended in divorce and he then married Elina Sjösted Tyszecka. Although he never had any children of his own, he was close to Elina's two children from a prior marriage.

Having split from Elina, in 1944 he married for a third time, film actress Aileen Pringle. However, the marriage was a tempestuous union and was dissolved in a bitter divorce two years later.

He married for the fourth time to Florence Macbeth, a retired opera singer, and their marriage lasted until her death in 1966.

He continued writing up to his death at the age of 85, his last three published works, 'The Baby in the Icebox' (1981), Cloud Nine (1984) and The Enchanted Isle (1985) being published posthumously. However, the many novels he published from the late 1940s onward never quite rivaled his earlier successes.





---
| | | | |
| --- | --- | --- | --- |
| ۳/۷ از ۵ | ۵ | ۲ | |
| ۰ از ۵ | | | |
| ۰ از ۵ | | | |
| ۴ از ۵ | ۲ | ۱ | |