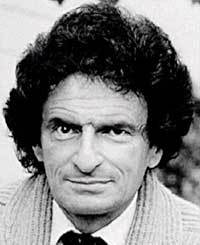 یرزی کازینسکی
Jerzy Kosiński
Kosiński was born Josef Lewinkopf to Jewish parents in Łódź, Poland. As a child during World War II, he lived in central Poland under a false identity his father gave him to use, Jerzy Kosiński. A Roman Catholic priest issued him a forged baptismal certificate. The Kosiński family survived the Holocaust thanks to local villagers, who offered assistance to Jewish Poles often at great personal risk (the penalty for assisting Jews in Nazi-occupied Poland was death). Kosiński's father received help not only from Polish town leaders and churchmen, but also from individuals such as Marianna Pasiowa, a member of the Polish underground network helping Jews to evade capture. The family lived openly in Dąbrowa Rzeczycka near Stalowa Wola, and attended church in nearby Wola Rzeczycka, obtaining support from villagers in Kępa Rzeczycka. They were sheltered temporarily by a Catholic family in Rzeczyca Okrągła. The young Jerzy even served as an altar boy in a local church.

After World War II, Kosiński remained with his parents in Poland, moved to Jelenia Góra, and earned degrees in history and political science at the University of Łódź. He worked as an assistant in Institute of History and Sociology at the Polish Academy of Sciences. In 1957, he emigrated to the United States, creating a fake foundation which supposedly sponsored him; he later claimed that the letters from eminent Polish communist authorities guaranteeing his loyal return, which were needed for anyone leaving the communist country at that time, had all been forged by him.

After taking odd jobs to get by, such as driving a truck, Kosiński graduated from Columbia University. In 1965, he became an American citizen. He received grants from Guggenheim Fellowship in 1967, Ford Foundation in 1968, and the American Academy in 1970, which allowed him to write a political non-fiction book, opening new doors of opportunity. In the States he became a lecturer at Yale, Princeton, Davenport University, and Wesleyan.

In 1962 Kosiński married Mary Hayward Weir who was 10 years his senior. They were divorced in 1966. Weir died in 1968 from brain cancer. Kosiński was left nothing in her will. He later fictionalized this marriage in his novel Blind Date speaking of Weir under pseudonym Mary-Jane Kirkland. Kosiński went on to marry Katherina "Kiki" von Fraunhofer, a marketing consultant and descendant of Bavarian aristocracy. They met in 1968.


Death

Kosiński suffered from multiple illnesses at the end of his life, and was under attack from journalists who alleged he was a plagiarist. By the time he reached his late 50s, Kosiński was suffering from an irregular heartbeat as well as severe physical and nervous exhaustion. Kosiński committed suicide on May 3, 1991, by taking a fatal dose of barbiturates. His parting suicide note read: "I am going to put myself to sleep now for a bit longer than usual. Call it Eternity".
---