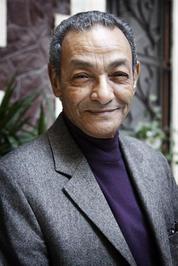 بهاء طاهر
Bahaa Taher
Bahaa Taher(Arabic:بهاء طاهر; also transliterated as Bahaa Tahir, Baha Taher, or Baha Tahir) is an Egyptian novelist. He was awarded the inaugural International Prize for Arabic Fiction in 2008 for his novel Sunset Oasis.
Shortly after graduating from the University of Cairo, he started work in Radio 2, the culture channel of the Egyptian Radio. In 1964, he published his first short story.
Bahaa was active in the left-wing and avant-garde literary circles of the 1960s and was one of the writers of the Gallery 68 movement. A storyteller and social commentator, Taher lost his job in radio broadcasting and was prevented from publishing in the mid 1970s during Anwar Sadat's government in Egypt.
In 1981 he chose to leave for Geneva to work as a translator for the United Nations. After many years of exile in Switzerland, he has returned recently to Egypt and is very active in cultural circles. He has received much recognition in the last five years. Apart from the translation into English of two of his novels, his collected works were published in Cairo by Dar al Hilal in 1992, and a film was made about him as a leading member of the 60s generation by Jamil 'At iyyat lbrahim in 1995.
Quickly becoming one of the most widely read contemporary novelists in the Arab world, Taher has received in 1998 the State's Award of Merit in Literature, the highest honour the Egyptian establishment can confer on a writer.
In 2000 he was awarded the prestigious Italian Guiseppe Acerbi prize for his widely acclaimed novel Khalti Safiya wal Dier (My Aunt Safiya and the Monastery).

---