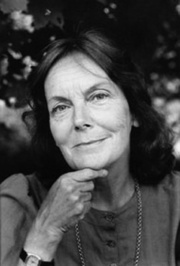 ماریا گریپ
Maria Gripe
Maria Gripe, born Maja Stina Walter (25 July 1923, Vaxholm, Uppland – 5 April 2007, Rönninge), was a Swedish author of books for children and young people, often written in a magical and mystical tone. In 1946 she married the artist Harald Gripe, who created cover illustrations for most of her books. His illustration career, in fact, began in connection with his wife's debut as author of I vår lilla stad ("In our little town"). Maria Gripe's first major success was Josephine (1961), the first of a series of novels that later included Hugo and Josephine and Hugo. During most of her adult life Maria Gripe lived in Nyköping, where an adaptation of her book Agnes Cecilia was filmed. After a long period of dementia Maria Gripe died at 83 in a nursing home in Rönninge outside Stockholm; her husband Harald had predeceased her by 15 years. Their daughter Camilla Gripe is also a children's author.

Much of her writing, particularly the later works, is suffused with a supernatural or mystical element. This change in her writing style from her less mature work was partly a result of the influence of Edgar Allan Poe, Charlotte and Emily Brontë, and Carl Jonas Love Almquist, and partly a reaction to violence in entertainment that had begun to gain ground in cultural expression; Gripe sought to manufacture plot tension in less overt ways. A prominent feature of Maria Gripe's writing is a respect for individuals and their unique characteristics, a trait which is especially perceptible in the social realism of the Elvis series, which she co-wrote with her husband Harald in the 1970s.

Gripe wrote 38 books, translated into 30 different languages, making her one of Sweden's most prolific writers. Her last published book is Annas blomma ("Anna's Flower", 1997). Several of Gripe's books have been filmed, such as Glasblåsarns barn (The Glassblower's Children), Agnes Cecilia: en sällsam historia ("Agnes Cecilia: a singular history") and the "Shadow" series, directed by Anders Grönros in the 1990s. Kjell Grade directed Hugo and Josephine in 1967, while Kay Pollak filmed Elvis! Elvis (Elvis and his friends) in 1976 and Flickan vid stenbänken ("The girl on the stone bench") became a television series in 1989. Dramatized versions of Tordyveln flyger i skymningen ("The dung-beetle flies at dusk"), Agnes Cecilia, Tanten ("The Aunt") and Svinhugg går igen ("The backbiter bitten") have been produced as radio serials. She also wrote the original Swedish television script for Trolltider ("Magic Time", 1979).

Stockholm University Literature professor Boel Westin praised Maria Gripe to a writer for Svenska Dagbladet, declaring that her Shadow books presented an exciting narrative that enabled readers to feel as if they were participants: "She has meant a lot. She renewed children's prose."[1]Literary researcher Ying Toijer-Nilsson, who wrote a biography Skuggornas förtrogna ("Confidant to shadows") of the author, echoed the remarks, saying that she would miss "the warm and humorous human being who was Maria Gripe." The biographer continued: "She has done a lot for the children's book world, and she got her readers to think about philosophy, about the world and about death." Toijer-Nilsson pointed out that Gripe's books also have "a significant tendency to support the social advancement of women." Her books have won many awards, including the Hans Christian Andersen Medal in 1974, and she was the 1979 Swedish winner of the Dobloug Prize for Swedish and Norwegian fiction.
---