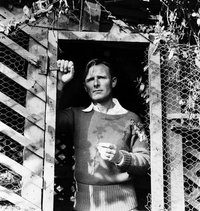 کریستوفر آیشروود
Christopher Isherwood
Wyberslegh Hall, High Lane, Cheshire, England
Isherwood spent his childhood in various towns where his father, a Lieutenant-Colonel in the British Army, was stationed. After his father was killed in the First World War, he settled with his mother in London and at Wyberslegh.

Isherwood attended preparatory school St. Edmund's, Surrey, where he first met W. H. Auden. At Repton School he met his lifelong friend Edward Upward, with whom he wrote the extravagant "Mortmere" stories, only one of which was published during his lifetime (a few others appeared after his death, and others were summarised in his Lions and Shadows). He deliberately failed his tripos and left Corpus Christi College, Cambridge without a degree in 1925.

In 1925 he was reintroduced to W. H. Auden, and became Auden's literary mentor and partner in an intermittent, casual liaison, as Auden sent his poems to Isherwood for comment and approval. Through Auden, Isherwood met Stephen Spender, with whom he later spent much time in Germany. His first novel, All the Conspirators, appeared in 1928; it is an anti-heroic story, written in a pastiche of many modernist novelists, about a young man who is defeated by his mother. In 1928-29 Isherwood studied medicine at King's College London, but gave it up after six months to join Auden for a few weeks in Berlin.
Rejecting his upper-class background and attracted to males, he remained in Berlin, the capital of the young Weimar Republic, drawn by its reputation for sexual freedom. There, he "fully indulged his taste for pretty youths. He went to Berlin in search of boys and found one called Heinz, who became his first great love."

In 1931 he met Jean Ross, the inspiration of his fictional character Sally Bowles; he also met Gerald Hamilton, the inspiration for the fictional Mr. Norris. In September 1931 the poet William Plomer introduced him to E. M. Forster; they became close and Forster served as a mentor to the young writer. Isherwood's second novel, The Memorial (1932), was another of his stories of conflict between mother and son, based closely on his own family history. During one of his returns to London he worked with the director Berthold Viertel on the film Little Friend, an experience that became the basis of his novel Prater Violet (1945). He worked as a private tutor in Berlin and elsewhere while writing the novel Mr Norris Changes Trains (1935) and a series of short stories collected under the title Goodbye to Berlin (1939). A memorial plaque to Isherwood has been erected on the house in Schöneberg, Berlin, where he lived.

During these years he moved around Europe, living in Copenhagen, Sintra and elsewhere, and collaborated on three plays with Auden, The Dog Beneath the Skin (1935), The Ascent of F6 (1936), and On the Frontier (1939). Isherwood wrote a lightly fictionalized autobiographical account of his childhood and youth, Lions and Shadows (1938), using the title of an abandoned novel. Auden and Isherwood travelled to China in 1938 to gather material for their book on the Sino-Japanese War called Journey to a War (1939).

Having visited New York on their way back to the UK, Auden and Isherwood decided to emigrate to the United States. He met Gerald Heard, the mystic-historian who founded his own monastery at Trabuco Canyon that was eventually gifted to the Vedanta Society of Southern California. Through Heard, who was the first to discover Swami Prabhavananda and Vedanta, Isherwood joined an extraordinary band of mystic explorers that included Aldous Huxley, Bertrand Russell, Chris Wood, John Yale and J. Krishnamurti. He embraced Vedanta, and, together with Swami Prabhavananda, he produced several Hindu scriptural translations, Vedanta essays, the biography Ramakrishna and His Disciples, novels, plays and screenplays, all imbued with the themes and character of Vedanta and the Upanishadic quest.

At the age of 81, Isherwood died in 1986 at Santa Monica, California from prostate cancer.


---