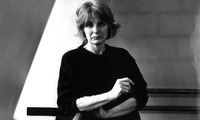 کاریل چرچیل
Caryl Churchill
Caryl Churchill (born 3 September 1938) is an English dramatist known for her use of non-naturalistic techniques and feminist themes, dramatisation of the abuses of power, and exploration of sexual politics.[1] She is acknowledged as a major playwright in the English language and one of world theatre's most influential writers.

Her early work developed Bertolt Brecht's modernist dramatic and theatrical techniques of 'Epic theatre' to explore issues of gender and sexuality. From A Mouthful of Birds (1986) onwards, she began to experiment with forms of dance-theatre, incorporating techniques developed from the performance tradition initiated by Antonin Artaud with his 'Theatre of Cruelty'. This move away from a clear Fabel dramaturgy towards increasingly fragmented and surrealistic narratives characterises her work as postmodernist.

Prizes and awards

Churchill has received much recognition, including the following awards:

1958 Sunday Times/National Union of Students Drama Festival Award Downstairs
1961 Richard Hillary Memorial Prize
1981 Obie Award for Playwriting, Cloud Nine
1982 Obie Award for Playwriting, Top Girls
1983 Susan Smith Blackburn Prize (runner-up), Top Girls
1984 Susan Smith Blackburn Prize, Fen
1987 Evening Standard Award for Best Comedy of the Year, Serious Money
1987 Obie Award for Best New Play, Serious Money
1987 Susan Smith Blackburn Prize, Serious Money
1988 Laurence Olivier/BBC Award for Best New Play, Serious Money
2001 Obie Sustained Achievement Award
2010 Inducted into the American Theater Hall of Fame.

Plays

Downstairs (1958)
You've No Need to be Frightened (1959?)
Having a Wonderful Time (1960)
Easy Death (1960)
The Ants, radio drama (1962)
Lovesick, radio drama (1969)
Identical Twins (1960)
Abortive, radio drama (1971)
Not Not Not Not Not Enough Oxygen, radio drama (1971)
Owners (1972)
Schreber's Nervous Illness, radio drama (1972) – based on Memoirs of My Nervous Illness
The Hospital at the Time of the Revolution (written 1972)
The Judge's Wife, radio drama (1972)
Moving Clocks Go Slow, (1973)
Turkish Delight, television drama (1973)
Objections to Sex and Violence (1975)
Light Shining in Buckinghamshire (1976) [7]
Vinegar Tom (1976)
Traps (1976)
The After-Dinner Joke, television drama (1978)
Seagulls (written 1978)
Cloud Nine (1979)
Three More Sleepless Nights (1980)
Top Girls (1982)
Crimes, television drama (1982)
Fen (1983)
Softcops (1984)
A Mouthful of Birds (1986)
A Heart's Desire (1987)[18]
Serious Money (1987)
Ice Cream (1989)
Hot Fudge (1989)
Mad Forest (1990)
Lives of the Great Poisoners (1991)
The Skriker (1994)
Blue Heart (1997)
Hotel (1997)
This is a Chair (1999)
Far Away (2000)
Thyestes (2001) – translation of Seneca's tragedy
A Number (2002)
A Dream Play (2005) – translation of August Strindberg's play
Drunk Enough to Say I Love You? (2006)
Seven Jewish Children – a play for Gaza (2009)
Love and Information (2012)
Ding Dong the Wicked (2013)
Here We Go (play) (2015)

source: http://en.wikipedia.org/wiki/Caryl_Ch...
---