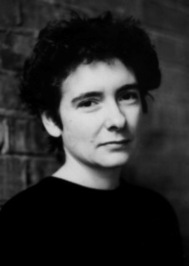 جینت وینترسون
Jeanette Winterson
Novelist Jeanette Winterson was born in Manchester, England in 1959. She was adopted and brought up in Accrington, Lancashire, in the north of England. Her strict Pentecostal Evangelist upbringing provides the background to her acclaimed first novel, Oranges Are Not the Only Fruit, published in 1985. She graduated from St Catherine's College, Oxford, and moved to London where she worked as an assistant editor at Pandora Press.

One of the most original voices in British fiction to emerge during the 1980s, Jeanette Winterson was named as one of the 20 'Best of Young British Writers' in a promotion run jointly between the literary magazine Granta and the Book Marketing Council.

Her novels include Boating for Beginners (1985), published shortly after Oranges Are Not the Only Fruit and described by the author as 'a comic book with pictures'; The Passion (1987), twin narratives following the adventures of the web-footed daughter of a Venetian gondolier and Napoleon's chicken chef; Sexing the Cherry (1989), an invented world set during the English Civil War featuring the fabulous 'Dog Woman' and the orphan she raises; and three books exploring triangular relationships, gender and formal experimentation: Written on the Body (1992), Art and Lies (1994) and Gut Symmetries (1997). She is also the author of a collection of short stories, The World and Other Places (1998), and a book of essays about art and culture, Art Objects, published in 1995. Her novel The. PowerBook (2000) she adapted for the National Theatre in 2002. Jeanette Winterson's work is published in 28 countries. Her latest novel is The Battle of the Sun (2009). She has also edited Midsummer Nights (2009), a collection of stories inspired by opera, by contemporary writers, to commemorate the 75th anniversary of the Glyndebourne Festival of Opera.

She adapted Oranges Are Not the Only Fruit for BBC television in 1990, and also wrote Great Moments in Aviation, a television screenplay directed by Beeban Kidron for BBC2 in 1994. She is also editor of a series of new editions of novels by Virginia Woolf published in the UK by Vintage. She is a regular contributor of reviews and articles to many newspapers and journals and has a regular column published in The Guardian. Her radio drama includes the play Text Message, broadcast by BBC Radio in November 2001.

The King of Capri (2003) and Tanglewreck (2006) are children's stories. Lighthousekeeping (2004), centres on the orphaned heroine Silver, taken in by the keeper of the Cape Wrath lighthouse, Mr Pew, whose stories of love and loss, passion and longing, are interwoven in the narrative. Her most recent book is The Battle of the Sun (2009).

Jeanette Winterson lives in Gloucestershire and London. In 2006, she was awarded an OBE.


---