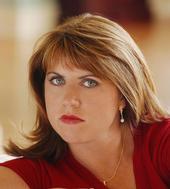 لیزا گاردنر
Lisa Gardner
Librarian Note: There is more than one author in the GoodReads database with this name.
(1) mystery & thrillers, suspense

aka Alicia Scott

New York Times bestselling crime novelist Lisa Gardner began her career in food service, but after catching her hair on fire numerous times, she took the hint and focused on writing instead. A self-described research junkie, she has parlayed her interest in police procedure, cutting edge forensics and twisted plots into a streak of eleven bestselling suspense novels.
Readers are invited to get in on the fun by entering the annual "Kill a Friend, Maim a Mate" Sweepstakes, where they can nominate the person of their choice to die in Lisa's latest novel. Every year, one lucky stiff is selected for literary immortality. It's cheaper than therapy, and you get a great book besides. For more details, simply visit Lisa's website.
Lisa lives in the White Mountains of New Hampshire with her family, as well as two highly spoiled dogs and one extremely neurotic three-legged cat. Lisa graduated Magna Cum Laude from the University of Pennsylvania with a degree in international relations.
---