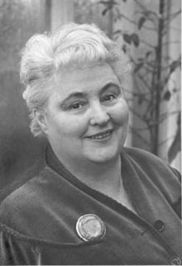 مارجری آلینگهام
Margery Allingham
Aka Maxwell March.

Margery Louise Allingham was born in Ealing, London in 1904 to a family of writers. Her father, Herbert John Allingham, was editor of The Christian Globe and The New London Journal, while her mother wrote stories for women's magazines. Margery's aunt, Maud Hughes, also ran a magazine. Margery earned her first fee at the age of eight, for a story printed in her aunt's magazine.

Soon after Margery's birth, the family left London for Essex. She returned to London in 1920 to attend the Regent Street Polytechnic (now the University of Westminster), and met her future husband, Philip Youngman Carter. They married in 1928. He was her collaborator and designed the cover jackets for many of her books.

Margery's breakthrough came 1929 with the publication of her second novel, The Crime at Black Dudley . The novel introduced Albert Campion, although only as a minor character. After pressure from her American publishers, Margery brought Campion back for Mystery Mile and continued to use Campion as a character throughout her career.

After a battle with breast cancer, Margery died in 1966. Her husband finished her last novel, A Cargo of Eagles at her request, and published it in 1968.
---