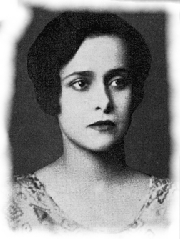 نینا بربرووا
Nina Berberova
Nina Nikolayevna Berberova was a Russian writer who chronicled the lives of Russian exiles in Paris in her short stories and novels. She visited post-Soviet Russia and died in Philadelphia.

Born in 1901 to an Armenian father and a Russian mother, Nina Berberova was brought up in St Petersburg.[1] She left Russia in 1922 with poet Vladislav Khodasevich (who died in 1939). The couple lived in several European cities before settling in Paris in 1925. There Berberova began publishing short stories for the Russian emigre publications Poslednie Novosti ("The Latest News") and Russkaia Mysl' ("Russian Thought"). The stories collected in Oblegchenie Uchasti ("The Easing of Fate") and Biiankurskie Prazdniki ("Billancourt Fiestas") were written during this period. She also wrote the first book length biography of composer Peter Ilyich Tchaikovsky in 1936, which was controversial for its openness about his homosexuality. In Paris she was part of a circle of poor but distinguished visiting literary Russian exiles which included Anna Akhmatova, Vladimir Nabokov, Boris Pasternak, Tsvetaeva and Mayakovsky.

After living in Paris for 25 years, Berberova emigrated to the United States in 1950 and became an American citizen in 1959. She began her academic career in 1958 when she was hired to teach Russian at Yale. She continued to write while she was teaching, publishing several povesti (long short stories), critical articles and some poetry. She left Yale in 1963 for Princeton, where she taught until her retirement in 1971. In 1991 Berberova moved from Princeton, New Jersey to Philadelphia.

Berberova's autobiography, which details her early life and years in France, was written in Russian but published first in English as The Italics are Mine (Harcourt, Brace & World, 1969). The Russian edition, Kursiv Moi, was not published until 1983.
---