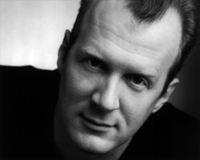 تریسی لتس
Tracy Letts
Tracy Letts is an American playwright and actor who received the 2008 Pulitzer Prize for Drama for his play August: Osage County.

Letts was born in Tulsa, Oklahoma to best-selling author Billie Letts, of Where The Heart Is and The Honk And Holler Opening Soon fame, and the late college professor and actor Dennis Letts. His brother Shawn is a jazz musician and composer. He also has a brother Dana. Letts was raised in Durant, Oklahoma and graduated from Durant High School in the early 1980s. He moved to Dallas, where he waited tables and worked in telemarketing while starting as an actor. He acted in Jerry Flemmons' O Dammit!, which was part of a new playwrights series sponsored by Southern Methodist University.

Letts moved to Chicago at the age of 20, and worked for the next 11 years at Steppenwolf and Famous Door. He is still an active member of the Steppenwolf company today. He was a founding member of Bang Bang Spontaneous Theater, whose members included Greg Kotis (Tony Award-winner for Urinetown), Michael Shannon (Academy Award-nominee for Revolutionary Road), Paul Dillon, and Amy Pietz. In 1991, Letts wrote the play Killer Joe. Two years later, the play premiered at the Next Lab Theater in Chicago, followed by the 29th Street Rep in NYC. Since then, Killer Joe has been performed in at least 15 countries in 12 languages.

In 2008, Letts won a Tony and the Pulitzer Prize for Drama for August: Osage County. It had premiered in Chicago in 2007, before moving to New York. It opened on Broadway in 2007 and ran into 2009.

His mother Billie Letts has said of his writing, "I try to be upbeat and funny. Everybody in Tracy's stories gets naked or dead." Letts' plays have been about people struggling with moral and spiritual questions. He says he was inspired by the plays of Tennessee Williams and the novels of William Faulkner and Jim Thompson. Letts considers sound to be a very strong storytelling tool for theater.

---