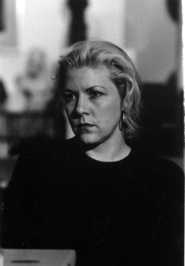 جنیفر کلمنت
Jennifer Clement
Jennifer Clement (born 1960) is an American-Mexican author. She studied English Literature and Anthropology at New York University and also studied French literature in Paris, France. She has an MFA from the University of Southern Maine. She was President of PEN Mexico from 2009 to 2012. Clement's books have been translated into 24 languages.

Clement is the author three novels: Prayers for the Stolen, A True Story Based on Lies (finalist in the Orange Prize for Fiction) and The Poison That Fascinates. She also wrote the cult classic memoir Widow Basquiat (on the painter Jean Michel Basquiat and NYC in the early 80's).

Prayers for the stolen was a New York Times Book Review Editor's Choice Book, First Selection for National Reading Group Month's Great Group Reads and appeared internationally on many "Best Books of the Year" lists, including The Irish Times. The novel was also a PEN/Faulkner Award 2015 finalist and winner of the Grand Prix des Lectrices Lyceenes de ELLE 2015 (sponsored by ELLE Magazine, the French Ministry of Education and by the Maison des écrivains et de la littérature).




She is also the author of several books of poetry: The Next Stranger (with an introduction by W.S. Merwin); Newton's Sailor; Lady of the Broom and Jennifer Clement: New and Selected Poems. Her prize-winning story A Salamander-Child is published as an art book with work by the Mexican painter Gustavo Monroy.

Jennifer Clement was awarded the National Endowment of the Arts (NEA) Fellowship for Literature in 2012 for her novel Prayers for the Stolen and was honored with The Sara Curry Humanitarian Award for that work. She is also the recipient of the UK's Canongate Prize. Clement is a Santa Maddalena Fellow, the MacDowell Colony's Robert and Stephanie Olmsted Fellow for 2007-08 and, in 2015, was chosen to be a City of Asylum Resident in Pittsburgh, PA. She is a member of Mexico's prestigious "Sistema Nacional de Creadores."

Jennifer Clement, along with her sister Barbara Sibley, is the founder and director The San Miguel Poetry Week. Clement lives in Mexico City, Mexico.
---