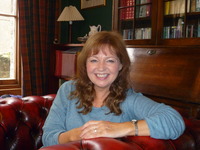 بی دیون‌پورت
Bea Davenport
Bea Davenport is the writing name of former print and broadcast journalist Barbara Henderson.Her first crime/suspense novel, In Too Deep, was a runner-up in the Luke Bitmead Bursary and published by Legend Press in 2013. A second crime/suspense novel. This Little Piggy, was also published by Legend Press in 2014.
Bea spent many years as a newspaper reporter and latterly seventeen years as a senior broadcast journalist with the BBC in the north-east of England. She has a Creative Writing PhD from Newcastle University where she studied under the supervision of award-winning writer Jackie Kay and renowned literature expert Professor Kim Reynolds. The children's novel produced as part of the PhD, The Serpent House, was shortlisted for the 2010 Times/Chicken House Award and published in 2014 by Curious Fox. Bea has also won several prizes for short stories.
Originally from Tyneside, she lives in Berwick-upon-Tweed with her partner and children.
---