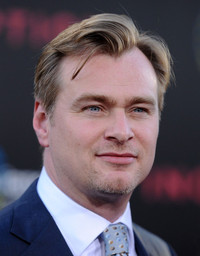 بیانکا اسکاردونی
Christopher J. Nolan
Librarian Note: There is more than one author in the GoodReads database with this name. See this thread for more information.

Christopher Jonathan James Nolan (born July 30, 1970) is a British-American film director, screenwriter and producer. He is known for writing and directing such critically acclaimed films as Memento (2000), the remake Insomnia (2002), the film adaptation The Prestige (2006), Inception (2010), and rebooting the Batman film franchise. The latter made him the second most commercially successful British director in recent years, behind David Yates. Nolan is the founder of the production company Syncopy Films.

He often collaborates with his wife, producer Emma Thomas, and his brother, screenwriter Jonathan Nolan, as well as cinematographer Wally Pfister, film editor Lee Smith, composers David Julyan and Hans Zimmer, special effects coordinator Chris Corbould, and actors Christian Bale and Michael Caine.

Nolan often casts the same actors in different films. Christian Bale, Michael Caine, Russ Fega, Cillian Murphy and Larry Holden are among his more frequent acting collaborators.

Nolan's wife Emma Thomas has produced most of his films, with the exception of Memento and Insomnia. Lee Smith has been Nolan's editor since Batman Begins, with Dody Dorn editing Memento and Insomnia. Wally Pfister has served as cinematographer for all of Nolan's films starting with Memento. David Julyan composed music for Following, Memento, Insomnia, and The Prestige, while Hans Zimmer provided music for Batman Begins, The Dark Knight, and Inception.
---