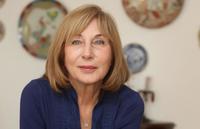 عایشه کولین
Ayşe Kulin
Ayşe Kulin is a Turkish contemporary novelist and columnist.
Kulin graduated in literature from the American College for Girls in Arnavutköy. She released a collection of short stories titled Güneşe Dön Yüzünü in 1984. A short story from this called Gülizar was made into a film titled Kırık Bebek in 1986, for which she won a screenplay award from the Turkish culture ministry. Kulin worked as a screen writer, cinematographer and producer for many films, television series and advertisements. In 1986, she won the Best Cinematographer Award from the Theatre Writers association for her work in the television series Ayaşlı ve Kiracıları.

In 1996, she wrote a biography of Münir Nureddin Selçuk titled Bir Tatlı Huzur. With a short story called Foto Sabah Resimleri she won the Haldun Taner Short Story Award the same year and the Sait Faik Story Prize the next year. In 1997, she was chosen as the "Writer of the year" by the İstanbul Communication Faculty for her biographical novel Adı Aylin, She won the same award the next year for her short story Geniş Zamanlar. In November 1999, she wrote a novel called Sevdalinka about the Bosnian Civil War and in 2000, a biographical novel called Füreyya. In June 2001, she put out a novel titled Köprü about drama in Turkey's eastern provinces and how they shaped the republic's early history.

In May 2002, Kulin wrote a novel titled Nefes Nefes'e about the Turkish diplomats who saved in the lives of Jews during the holocaust in World War 2.

She has married twice, her latest novels Hayat and Huzun describe her life with her spouses, Mehmet Sarper and Eren Kemahli. Both ended in divorce but she bore 4 sons from the marriages.
---