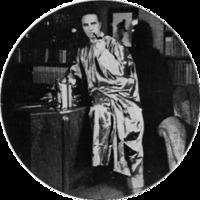 مایکل ایتون
Sax Rohmer
Birmingham, Warwickshire, England
AKA Arthur Sarsfield Ward (real name); Michael Furey.

Arthur Henry Sarsfield Ward (15 February 1883 - 1 June 1959), better known as Sax Rohmer, was a prolific English novelist. He is best remembered for his series of novels featuring the master criminal Dr. Fu Manchu.

Born in Birmingham to a working class family, Rohmer initially pursued a career as a civil servant before concentrating on writing full-time.

He worked as a poet, songwriter, and comedy sketch writer in Music Hall before creating the Sax Rohmer persona and pursuing a career writing weird fiction.

Like his contemporaries Algernon Blackwood and Arthur Machen, Rohmer claimed membership to one of the factions of the qabbalistic Hermetic Order of the Golden Dawn. Rohmer also claimed ties to the Rosicrucians, but the validity of his claims has been questioned. His physician and family friend, Dr. R. Watson Councell may have been his only legitimate connection to such organizations. It is believed that Rohmer may have exaggerated his association in order to boost his literary reputation as an occult writer.

His first published work came in 1903, when the short story The Mysterious Mummy was sold to Pearson's Weekly. He gradually transitioned from writing for Music Hall performers to concentrating on short stories and serials for magazine publication. In 1909 he married Rose Elizabeth Knox.

He published his first novel Pause! anonymously in 1910. After penning Little Tich in 1911 (as ghostwriter for the Music Hall entertainer) he issued the first Fu Manchu novel, The Mystery of Dr. Fu-Manchu, was serialized from October 1912 - June 1913. It was an immediate success with its fast-paced story of Denis Nayland Smith and Dr. Petrie facing the worldwide conspiracy of the 'Yellow Peril'. The Fu Manchu stories, together with his more conventional detective series characters—Paul Harley, Gaston Max, Red Kerry, Morris Klaw, and The Crime Magnet—made Rohmer one of the most successful and well-paid authors of the 1920s and 1930s.

Rohmer also wrote several novels of supernatural horror, including Brood of the Witch-Queen. Rohmer was very poor at managing his wealth, however, and made several disastrous business decisions that hampered him throughout his career. His final success came with a series of novels featuring a female variation on Fu Manchu, Sumuru.

After World War II, the Rohmers moved to New York only returning to London shortly before his death. Rohmer died in 1959 due to an outbreak of influenza ("Asian Flu").

There were thirteen books in the Fu Manchu series in all (not counting the posthumous The Wrath of Fu Manchu. The Sumuru series consist of five books.

His wife published her own mystery novel, Bianca in Black in 1954 under the pen name, Elizabeth Sax Rohmer. Some editions of the book mistakenly credit her as Rohmer's daughter. Elizabeth Sax Rohmer and Cay Van Ash, her husband's former assistant, wrote a biography of the author, Master of Villainy, published in 1972.
---