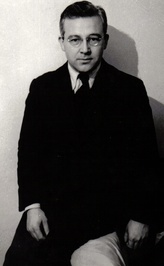 صباح‌الدین علی
Sabahattin Ali
Sabahattin Ali (February 25, 1907 – April 2, 1948) was a Turkish novelist, short-story writer, poet, and journalist.

He was born in 1907 in Eğridere township (now Ardino in southern Bulgaria) of the Sanjak of Gümülcine (now Komotini in northern Greece), in the Ottoman Empire. He lived in Istanbul, Çanakkale and Edremit before he entered the School of Education in Balıkesir. Then, he was transferred to the School of Education in Istanbul, where he graduated in 1926. After serving as a teacher in Yozgat for one year, he earned a fellowship from the Ministry of National Education and studied in Germany from 1928 to 1930. When he returned to Turkey, he taught German language in high schools at Aydın and Konya.

While he was serving as a teacher in Konya, he was arrested for a poem he wrote criticizing Atatürk's policies, and accused of libelling two other journalists. Having served his sentence for several months in Konya and then in the Sinop Fortress Prison, he was released in 1933 in an amnesty granted to mark the 10th anniversary of the declaration of the Republic of Turkey. He then applied to the Ministry of National Education for permission to teach again. After proving his allegiance to Atatürk by writing the poem "Benim Aşkım" (literally: My Love or My Passion), he was assigned to the publications division at the Ministry of National Education. Sabahattin Ali married on May 16, 1935 and did his military service in 1936. He was imprisoned again and released in 1944. He also owned and edited a popular weekly newspaper called "Marko Paşa" (pronounced "Marco Pasha"), together with Aziz Nesin.

Upon his release from prison, he suffered financial troubles. His application for a passport was denied. He was killed at the Bulgarian border, probably on 1 or 2 April 1948. His body was found on June 16, 1948. It is generally believed that he was killed by Ali Ertekin, a smuggler with connections to the National Security Service, who had been paid to help him pass the border.[2] Another hypothesis is that Ertekin handed him over to the security services, and he was killed during interrogation. It is believed he was killed because of his political opinions.

Sabahattin Ali's 100th birth anniversary was celebrated in Bulgarian city Ardino in March 31, 2007. Ali is a well-known author in this country because his books have been read in schools in Bulgaria since 1950s.
---