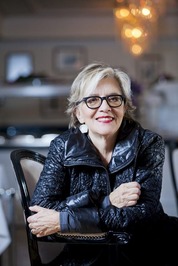 اسلاونکا دراکولیچ
Slavenka Drakulić
Slavenka Drakulić (1949) is a noted Croatian writer and publicist, whose books have been translated into many languages.

In her fiction Drakulić has touched on a variety of topics, such as dealing with illness and fear of death in Holograms of fear; the destructive power of sexual desire in Marble skin; an unconventional relationship in The taste of a man; cruelty of war and rape victims in S. A Novel About the Balkans (made into a feature film As If I Am Not There, directed by Juanita Wilson); a fictionalized life of Frida Kahlo in Frida's bed. In her novel Optužena (English translation forthcoming), Drakulić writes about the not often addressed topic of child abuse by her own mother. In her novel Dora i Minotaur Drakulic writes about Dora Maar and her turbulent relationship to Pablo Picasso, and how it affected Dora's intellectual identity. In her last novel Mileva Einstein, teorija tuge she writes about Einstein's wife Mileva Maric. The novel is written from Mileva's point of view, especially describing how motherhood and financial and emotional dependence on Einstein took her away from science and professional life.

Drakulić has also published five non-fiction books. Her main interests in non-fiction include the political and ideological situation in post-communist countries, war crimes, nationalism, feminist issues, illness and female body. In How We Survived Communism; Balkan Express; Café Europa she deals with everyday life in communist and post-communist countries. Drakulic wrote the history of communism through the perspective of animals in A Guided Tour Through the Museum of Communism. She explores evil in ordinary people and choices they make in They Would Never Hurt a Fly War Criminals On Trial In The Hague, about the people who committed crimes during the Croatian Homeland war. On the other side, in Flesh of her flesh (available in English only as an e-book) Drakulić writes about the ultimate good – people who decide to donate their own kidney to a person they have never met. Her first book, Deadly sins of feminism (1984) is available in Croatian only.

Drakulić is a contributing editor in The Nation (USA) and a freelance author whose essays have appeared in The New Republic, The New York Times Magazine and The New York Review Of Books. She contributes to Süddeutsche Zeitung (Germany), Internazionale (Italy), Dagens Nyheter (Sweden), The Guardian (UK), Eurozine and other newspapers and magazines.

Slavenka Drakulić is the recipient of the 2004 Leipzig Book-fair "Award for European Understanding." At the Gathering of International Writers in Prague in 2010 she was proclaimed as one of the most influential European writers of our time.
---