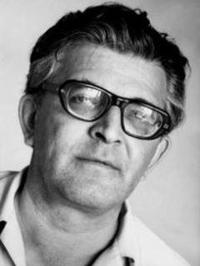 آرکادی بوریس استروگاتسکی
Arkady Strugatsky
Batumi, Georgian SSR, TSFSR, USSR
Arkady Natanovich Strugatsky [Russian: Аркадий Стругацкий] was born in August 1925 in hot Batumi in the family of intellectuals critic Nathan Zalmanovich Strugatsky, who worked as a newspaper editor, and Alexandra Ivanovna Litvinovoj, honored teacher who taught Russian language and literature.
17-year-old Arkady Strugatsky, first participated in the construction of fortifications of the besieged city, then went to work at the factory, which produced shells.
During the evacuation of the sick younger Strugatsky – 9-year-old Boris. My mother stayed with her son in the city. Arkady's father was taken on the «road of life» across Ladoga in the beginning of 1942. More mother and father Arkady did not see never. Dad became seriously ill and died in Vologda. Miraculously survived himself Arkady. The train, which transported the refugees, including young Strugatsky, was bombed. Survived units, among them the future writer.
In the summer of 1942 Arkady Strugatsky stopped in a small village close to Tashla in Orenburg. Short time he worked at the point of purchase of products and was even appointed head of. Earning money on the road, he was able in the spring of 1943 to pick up my mom and younger brother Boris from hungry Leningrad.
In 18 years, Arkady Strugatsky studying in Berdichev artillery school, which was located in the rear Sittwe. After graduating, he was assigned to a Military University, where he taught foreign languages. Graduated from the Institute in 1949 with a degree in interpreter of English and Japanese languages.
After graduation destiny brought Arkady Strugatsky North. Until 1955 he served as an interpreter on the Kamchatka Peninsula. Arcady has worked as a Japanese teacher in one of schools located in the city of Kansk. After retirement Strugatsky moved to the capital.
---