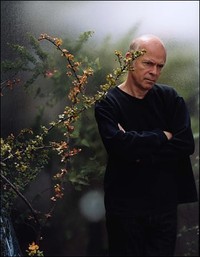 پاسکال کینیار
Pascal Quignard
Romancier, poète et essayiste, Pascal Quignard est né en 1948. Après des études de philosophie, il entre aux Éditions Gallimard où il occupe les fonctions successives de lecteur, membre du comité de lecture et secrétaire général pour le développement éditorial. Il enseigne ensuite à l'Université de Vincennes et à l'École Pratique des Hautes Études en Sciences Sociales. Il a fondé le festival d'opéra et de théâtre baroque de Versailles, qu'il dirige de 1990 à 1994. Par la suite, il démissionne de toutes ses fonctions pour se consacrer à son travail d'écrivain. L'essentiel de son oeuvre est disponible aux Éditions Gallimard, en collection blanche et en Folio.

===


Pascal Quignard is a French writer born in Verneuil-sur-Avre, Eure. In 2002 his novel Les Ombres errantes won the Prix Goncourt, France's top literary prize. Terrasse à Rome (Terrasse in Rome), received the French Academy prize in 2000, and Carus was awarded the "Prix des Critiques" in 1980.
One of Quignard's most famous works is the eighty-four "Little Treatises", first published in 1991 by Maeght. His most popular book is probably Tous les matins du monde (All the Mornings in the World), about 17th-century viola de gamba player Marin Marais and his teacher, Sainte-Colombe, which was adapted for the screen in 1991, by director Alain Corneau. Quignard wrote the screenplay of the film, in collaboration with Corneau. Tous les matins du monde, starring Jean-Pierre Marielle, Gérard Depardieu and son Guillaume Depardieu, was a tremendous success in France and sold 2 million tickets in the first year, and was subsequently distributed in 31 countries. The soundtrack was certified platinum (500,000 copies) and made musician Jordi Savall an international star.
The film was released in 1992 in the US.
Quignard has also translated works from the Latin (Albucius, Porcius Latro), Chinese (Kong-souen Long), and Greek (Lycophron) languages.


---