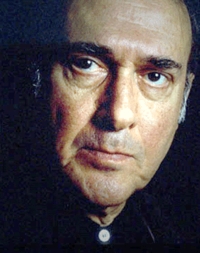 هارولد پینتر
Harold Pinter
Harold Pinter, CH, CBE, was an English playwright, screenwriter, actor, director, political activist and poet. He was one of the most influential playwrights of modern times. In 2005 he was awarded the Nobel Prize for Literature.

After publishing poetry and acting in school plays as a teenager in London, Pinter began his professional theatrical career in 1951, touring throughout Ireland. From 1952, he acted in repertory companies throughout England for about a dozen years, using the stage name David Baron in the late 1950s. Beginning with his first play, The Room (1957), Pinter's writing career spanned over 50 years and produced 29 original stage plays, 27 screenplays, many dramatic sketches, radio and TV plays, poetry, one novel, short fiction, essays, speeches, and letters. His best-known plays include The Birthday Party (1957), The Caretaker (1959), The Homecoming (1964), and Betrayal (1978), each of which he adapted to film. His screenplay adaptations of others' works include The Servant (1963), The Go-Between (1970), The French Lieutenant's Woman (1981), The Trial (1993), and Sleuth (2007). He directed almost 50 stage, television, and film productions and acted extensively in radio, stage, television, and film productions of his own and others' works. Despite frail health after being diagnosed with oesophageal cancer in December 2001, Pinter continued to act on stage and screen, last performing the title role in a critically-acclaimed stage production of Samuel Beckett's one-act monologue Krapp's Last Tape, for the 50th anniversary season of the Royal Court Theatre, in October 2006.

Pinter's dramas often involve strong conflicts among ambivalent characters who struggle for verbal and territorial dominance and for their own versions of the past. Stylistically, these works are marked by theatrical pauses and silences, comedic timing, irony, and menace. Thematically ambiguous, they raise complex issues of individual identity oppressed by social forces, language, and vicissitudes of memory. In 1981, Pinter stated that he was not inclined to write plays explicitly about political subjects; yet in the mid-1980s he began writing overtly political plays, reflecting his own heightening political interests and changes in his personal life. This "new direction" in his work and his left-wing political activism stimulated additional critical debate about Pinter's politics. Pinter, his work, and his politics have been the subject of voluminous critical commentary.

Pinter received numerous awards. In addition to the Nobel Prize, he received the Tony Award for Best Play in 1967 for The Homecoming. He was given BAFTA awards, the French Légion d'honneur and 20 honorary degrees. Festivals and symposia have been devoted to him and his work. In awarding the Nobel Prize, the Swedish Academy noted, "That he occupies a position as a modern classic is illustrated by his name entering the language as an adjective used to describe a particular atmosphere and environment in drama: 'Pinteresque'". He died from liver cancer on 24 December 2008. He was buried the following week at Kensal Green Cemetery in North West London.

---